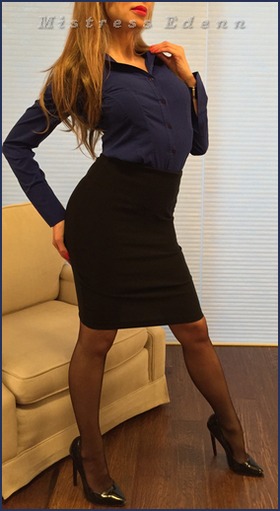 It's true that most people who call a spanking phone sex line have a spanking fetish.  For those people, there are an endless number of spanking fantasies but what they all have in common is that the focus of the fantasy is the spanking itself. That's the turn on.  But spanking can be worked into lots of other fetish fantasies. Even for someone who's not a spanking fetishist, there's a wonderfully embarrassing indignity in having your pants pulled down and having your bottom repeatedly smacked and that can be a huge turn on, especially in a humiliation fantasy.
Sissy spanking is a perfect example. What better punishment for a sissy who's lazy or careless or disobedient than to endure the humiliation of being put over Mistress' knee, panties pulled down, for an embarrassing sissy spanking?
There are many possibilities and variations for cuckold spanking.  Wife spanking her cuck. Spanking him in front of her girlfriends to humiliate him and demonstrate her control over him. Or spanking him in front of her bull. Even the ultimate humiliating cuckold spanking — having her bull spank him.
Forced bi fantasies? Imagine you find yourself in a gay bar by mistake and that big, muscular guy sitting beside you hits on you.  When you resist and try to leave, he shows his dominance by flipping you over his knee right there at the bar and spanking you in front of everyone before dropping you to your knees on the floor between his legs.
Peeping Tom fantasy? Maybe the outraged neighborhood ladies discover your night time peeping activities and ambush you outside one day.  They pull your pants off and give you a humiliating public spanking.
There are lots of other possibilities too. So if you're getting a little bored with your usual fetish phone sex and are craving something new, maybe it's time to give your fantasy a spanking. 😉